For Dance Costumes and Uniforms
This is a measurement chart to assist you in determining your online orders with Kinetic Creations. Measurements are in centimeters, inches, and feet. Please measure each student's Chest, Waist, Lower Hips, and Girth and refer back to our measurement chart to determine your student's size. The Girth measurement involves starting the tape measure at one shoulder, looping it through the legs, and back up to the same shoulder.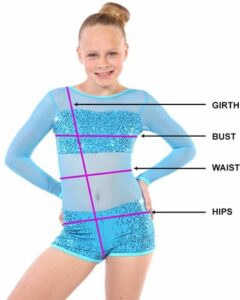 Sizing Leotard Set
For your convenience, we offer a Sizing Leotard Set. These sets include leotard sizes from Child Size 4 to Adult XL, sold as a complete pack. It's a one-time purchase, and you can keep the leotards forever. Simply have your students try them on, as each leotard has a number printed on the front for easy identification. It's that simple!
Say goodbye to measuring, consulting the sizing chart, and headaches! While the leotard sizes are generally accurate, please note that in cases where a style includes non-stretch lace, you may need to consider going up a size. Overall, using the sizing sets will save you a lot of time and ensure greater accuracy.
If you'd like to purchase a set, please click here We will promptly arrange for the sets to be sent to you.